GCSE results are released on Thursday. Here's what to expect from an Ofqual perspective.
1. All 9 to 1
This is the first year that almost all GCSE students have taken reformed exams and over 99 per cent will get results that are all 9 to 1 grades. There are a handful of subjects which are not reformed until 2020 (Biblical Hebrew, Gujarati, Persian, Portuguese and Turkish) but all other GCSE subjects are now reformed. This year, that includes GCSE design and technology, and GCSE business. As has been the case for each of the reformed qualifications, exam boards have used statistics to guide the awards in these new GCSEs so that, where the cohort has similar prior attainment to previous years, broadly the same proportion of students who previously achieved a grade C or above will achieve a grade 4 or above. And as we move into the third year of some reformed GCSEs, we expect exam boards to place more weight on senior examiner judgements about the quality of work.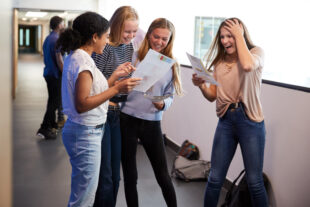 2. National Reference Test
The first National Reference test (NRT) was taken in 2017. This is taken by a representative sample of just under 20,000 Year 11 students each year, a few months before they take their GCSEs. There is more detail on the test here. This is the first year that we have fed the NRT evidence into the awarding of GCSE English language and GCSE maths. We took a decision about how NRT results should be taken into account this summer, and we provided a briefing on the NRT results to all senior examiners involved in the awarding. We'll publish the results of this year's NRT, along with a statement about how we have interpreted those results and any action taken, on Thursday.
3. Results slips
Last year there were queries about the way the double grade for combined science was presented. When results went through schools' software systems, the hyphen was sometimes missing from results slips, so 5-4 became 54, and so on. Certificates will show the grades correctly. There have been similar queries over the endorsement grade for the spoken language element of GCSE English language (Pass, Merit or Distinction). These will also be correct on the certificates issued later in the autumn.
4. What we'll be publishing on Thursday
We'll publish our usual guide to results, highlighting the key points and providing context for the results.
We'll also refresh our interactive analytics with 2019 results data, so you'll be able to look at year-on-year variability for schools and colleges, and be able to compare changes in your centre to the national picture. You can also see a regional breakdown of results – overall, and by subject, as well as by different age groups.
On NRT, we will publish NFER's Results Digest, an updated Background Report, and our Annual Statement explaining our interpretation of the results and how the results have informed awarding in GCSE English language and GCSE maths.
To all those students awaiting results next week, I do hope your results are what you were hoping for. And if they are not, then please remember there is a wealth of advice available from teachers, parents and others about the different options that are open to you. The Department for Education also provides an impartial helpline on 0800 100 900.