GCSE, AS and A level exams finished in late June, and schools and colleges are now nearing the end of term.  But what happens to students' scripts once the exam is over? Here's a brief guide to marking, who the examiners are, and some key dates for schools and colleges to be aware of after results.
Marking
Marking is well in hand for the 15 million or so exam scripts that this year's students have produced. This begins soon after the first exams have ended and will carry on into early August. Increasingly, that marking takes place at a computer and no one examiner marks the whole of a student's script; instead they mark individual questions. There's more detail here about what that means for marking and marking quality.
Who are the examiners?
As you'd expect, we and the exam boards monitor marking progress over the summer. We're also very interested in understanding more about the thousands of markers who work extremely hard over the summer so that results are delivered on time.
We've recently surveyed all the examiners and moderators for the four exam boards: AQA, OCR, Pearson and WJEC. We don't know exactly how many people work as examiners, but we do know that there are around 60,000 examiner and moderator roles in the GCSE, AS and A level system. Some examiners will mark for more than one board, or for more than one subject, and so we estimate that the number of people employed in marking is likely to be more like 40-50,000.
We had responses from just over 20,000 examiners, which we're really pleased about, so if you're an examiner or moderator and you responded to our survey, thank you! We haven't finished the analysis yet, but we do have some headlines.
From those who responded, about two thirds are female and one third are male. They have an average of over ten years' examining experience. Three quarters are currently teaching, and the other quarter have taught in the past, and across all the examiners their average teaching experience is 19 years. They are also well qualified: 87% have at least a first degree in the subject they mark and over a third of that 87% also have a postgraduate degree or a doctorate. Some examiners will mark GCSE and A level subjects for which there is no direct comparable degree, such as general studies or citizenship studies.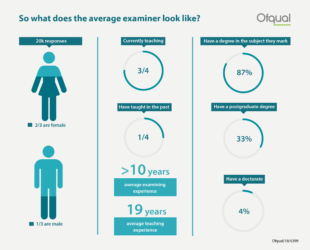 We will continue to analyse the data and we'll report in more detail in the autumn.
Awarding
Exam boards have already started their awarding meetings. These are face to face or online and involve senior examiners making recommendations about where the grade boundaries should be set. There are over 500 different meetings (reflecting the number of qualifications on offer by each exam board) and, as usual, we will review the data from each of those awards between now and results to ensure that standards have been maintained in every qualification.
Results days and post-results dates
Results for AS and A levels are out on Thursday 16 August, with GCSE results a week later on 23 August. For students or parents with questions about the results, your first point of contact should be the school or college. Where there are concerns about the original marking or moderation, there is the opportunity to seek a review by the exam board to check if the original marker or moderator made an error. Results will only be changed if an error is found. Any requests for copies of exam scripts or reviews of marking or moderation will need to go via the school or college, unless the student is a 'private candidate'.
23 August – deadline for priority reviews of marking for A level, where a university place is in question. This is also the deadline for requests for copies of AS or A level scripts where a school/college is considering a review of marking.
30 August – deadline for requests for copies of GCSE scripts where a school/college is considering a review of marking.
6 September – deadline for exam boards to send to schools/colleges all scripts requested to support reviews of marking
20 September – deadline for submitted requests for reviews of marking or moderation
27 September - deadline for requests to exam boards for copies of exam scripts (AS/A level and GCSE) to be used for teaching/learning purposes
There is more information on these processes in our guide for schools and colleges.