We, like schools and colleges, are already looking ahead to this summer's exams. This year there are more new AS and A level subjects and 9 to 1 GCSEs being awarded for the first time. They include the new GCSE science suite of qualifications, GCSE and A level geography, dance, drama and music, GCSE history, and GCSE and A level French, German and Spanish. We also have the second year of awards for those subjects taken for the first time in 2017, and some unreformed qualifications too. So, how will awarding work for each of these groups this year?
Subjects first awarded in 2018
The list of subjects being awarded for the first time has changed, but our approach for these subjects is the same as in 2017 (and 2016 for new AS); that is, to make sure this year's cohort is treated fairly.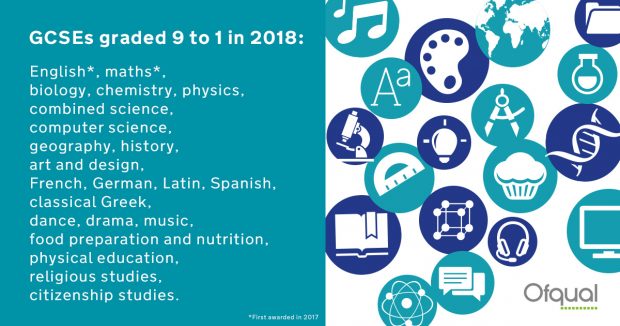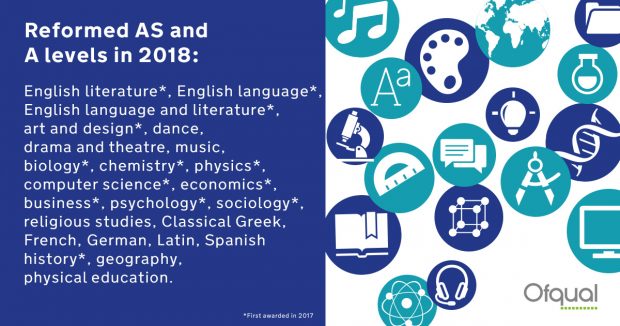 We will again follow the principle of comparable outcomes to carry forward standards in the first year of the new qualifications. Exam boards will be relying heavily on the statistical evidence to do this, but also using senior examiners to check the grade boundaries that the statistics are pointing to.
In the new A levels, this means that, provided the 18-year-old cohort is similar to previous years in terms of their previous GCSE results, national results in a subject in 2018 will look similar to results in 2017 in that subject.
In the new 9 to 1 GCSEs, exam boards will use predictions to anchor standards to the legacy A* to G GCSEs. This means that, if the 16-year-old cohort is similar to previous years in terms of their previous key stage 2 attainment, the proportion of students who achieve grade 4 and above in any new subject will be similar to the proportion that previously achieved grade C and above. The same principle applies to grade 7/grade A and grade 1/grade G.
Grade 9 in the new GCSEs will be set using the 'tailored approach' formula. This means that across all subjects (when all GCSEs are graded 9 to 1) about 20% of those students achieving grade 7 or above will achieve a grade 9. The proportion for an individual subject might be higher or lower than 20%. In summer 2017 GCSE maths, for example, 19.9% of students achieved a grade 7 or above, and 3.5% achieved a grade 9 – that's about 18% of those achieving a 7 or above.
There are several reasons for taking the approach outlined above for the new qualifications.
We know from our research on the sawtooth effect, that student performance dips a little in the first years of a new qualification, because teachers are less familiar with the new specifications, and there are fewer support materials and past papers for students to use. Using statistics compensates for that dip, so that the 2018 cohort is not unfairly disadvantaged by being the first to sit these new qualifications.
The changes to these qualifications would make it challenging for senior examiners to compare the quality of student work this year in response to papers that are different in content and style to those in previous years.
Using the statistics means that we can have confidence that the grade standards are aligned between different exam boards in a subject, so that it is no easier to achieve a particular grade with one board than with another.
Subjects first awarded in 2017
Summer 2018 also sees the second full cohort awards of GCSE English language, English literature and maths. Exam boards will be using statistical predictions to maintain the standards set in 2017. These predictions will be based on the national results for 16-year-olds in 2017. Predictions will also be used for grade 9, based on the national grade 9 outcomes in 2017. We expect to see changes in the overall cohort this year, as the entry will include significantly more post-16 students who will mostly be re-sitting their exams. As such, overall results might look different, but we expect that results for the 16-year-old cohort will be similar to 2017.
For the second awards of the new A levels first awarded in 2017, exam boards will also use statistical predictions to carry forward the standards set in 2017 at grades A*, A and E. These predictions will be based on the national results for 18-year-olds in 2017. If this year's cohort is similar in terms of prior attainment, we expect to see similar results in summer 2018.
Other GCSEs and A levels
For all other AS and A level qualifications, exam boards will continue to use predictions for 18-year-olds based on their prior attainment at GCSE, and for GCSE they will use predictions based on key stage 2 outcomes.
Coming soon
I will be blogging on various topics over coming months, published here and also in our '9 to 1 news' and 'Exam matters' newsletters.  I will be taking a detailed look at the new GCSE science suite, providing an update on our research looking at tiering choices in GCSE maths, and letting you know how we will approach the first awards of the new A level maths specifications in 2018. Do let me know if there's a topic you'd like me to cover by leaving a comment below.
Cath Jadhav
Associate Director, Standards and Comparability