You may be familiar with the rules for setting A* in the current A levels: students must get enough UMS marks to achieve a grade A overall and achieve 90% or more of the UMS marks at A2. This rule has been in place since the A* was first awarded in 2010.
In the new, linear A levels it's much more straightforward. There are no UMS marks, and all the papers are A level papers. Exam boards will use predictions to identify an overall subject-level grade boundary for A*, and students who achieve that mark or higher will get an A*.
Here's an example to show how that will work. (Note that this is an over-simplified example. In many specifications this summer, one or more of the paper marks will be scaled to achieve the correct weighting for that paper.)
Imagine a new linear A level, with two papers
Paper 1 is marked out of 60 marks and is worth 60% of the A level qualification.
Paper 2 is marked out of 40 marks and is worth 40% of the A level qualification.
Students' marks on paper 1 will be added to their marks on paper 2 to get a 'subject-level mark' (also referred to as a qualification-level mark). In this case, that means each student will get a subject-level mark out of 100.
The exam board will add the marks for each paper together for each student, and create a subject-level mark distribution for all students, starting from the maximum mark and showing the cumulative percentage of students at each mark, from 100 down to zero.
At A* (and A and E) exam boards will have a prediction (based on prior attainment) for the expected percentage of students who will achieve the grade. We have already said that exam boards will put greater emphasis on predictions this year, to avoid unfairly disadvantaging this year's cohort. We know from our research into the sawtooth effect that, in general, students perform less well in the first year of a new qualification.
In our example, let's say that at A* the prediction is 7.2%. The exam board will look at the mark distribution for the subject and identify the mark where the cumulative percentage is closest to 7.2. in this case that's a mark of 76. The exam board will therefore set the subject-level grade boundary for A* at 76 marks out of 100.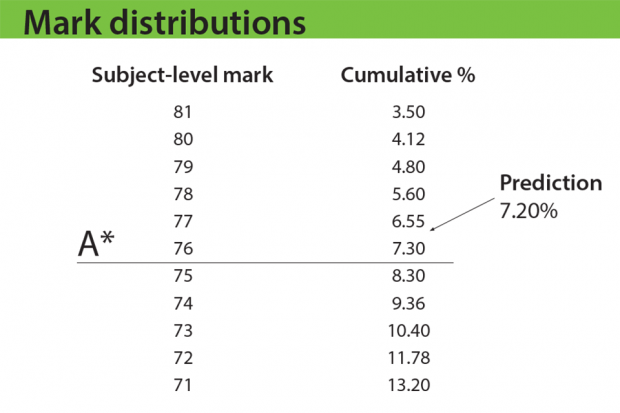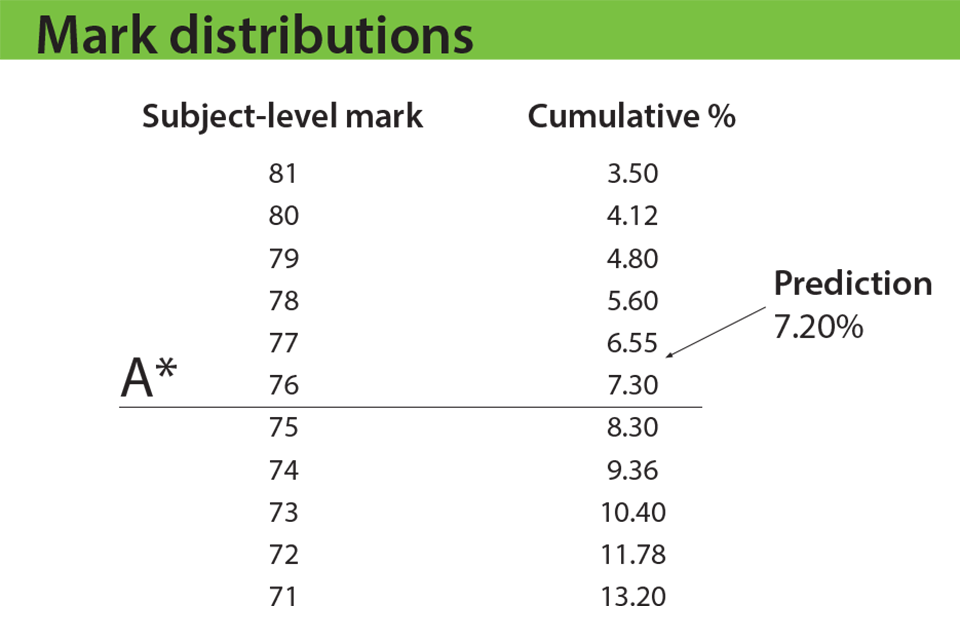 Exam boards will follow a similar approach with A and E – see examples below. But once the mark closest to predictions is identified, senior examiners will be asked to look at some student work, to make sure they are content that the work is appropriate for that grade. They'll do this for A and E, but not A*, because they have previous experience of reviewing work at grades A and E. Senior examiners have never reviewed work at A* (because it's always been set using the rule set out above), so they would not be in a position this summer to judge whether work is appropriate at that grade. In future years, we expect senior examiners to review work at A* as well as A and E.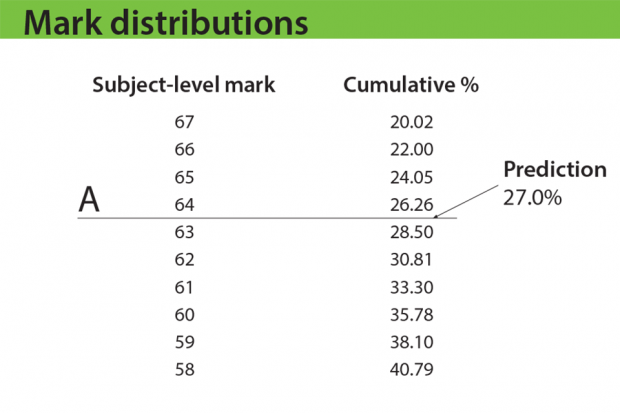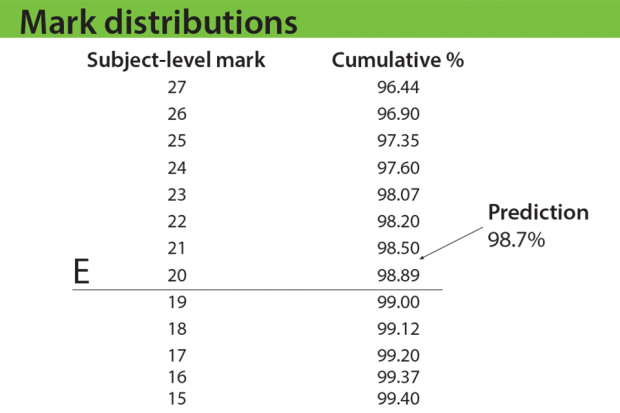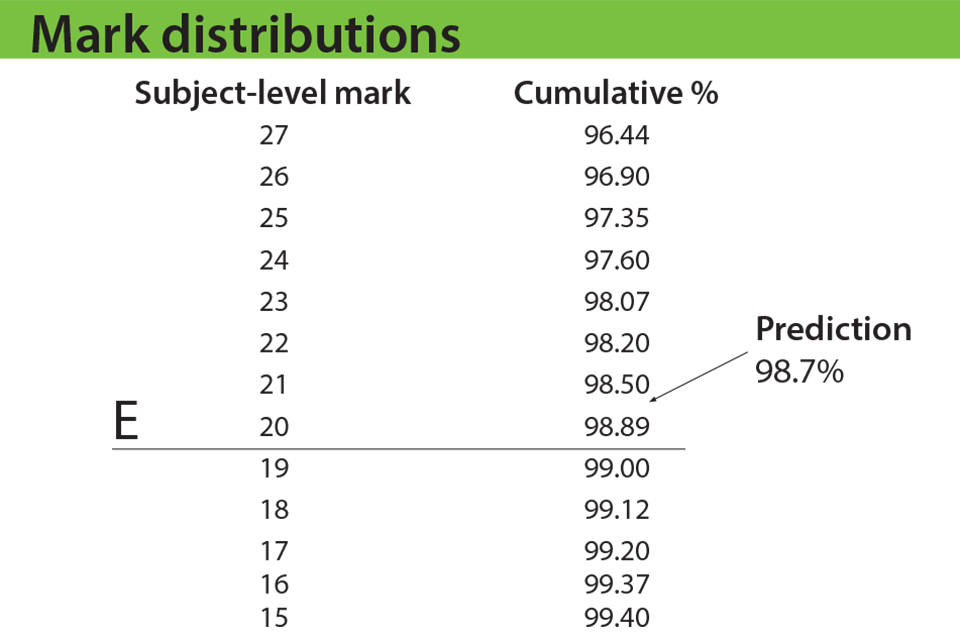 This approach means that as long as a student achieves enough marks at subject level (76 or more in this example), they will receive an A* grade. It doesn't matter how they get their 76 marks. One student could score full marks (60/60) on paper 1 and 16/40 marks on paper 2 (60+16=76). Another could score 46/60 on paper 1 and 30/40 on paper 2 (46+30=76).
This means that the grade boundaries set at paper level are less important. Exam boards will still publish them, but they are only a guide. The mark that will determine the overall grade is the overall subject-level mark.
A* will continue to identify the very best students, and, broadly speaking, students who would have got an A* in previous years will get an A* in the new A levels.
Cath Jadhav
Associate Director, Standards and Comparability