According to Department for Education (DfE) figures, around 200,000 16 to 18-year-old students took Applied Generals or Tech Level qualifications in 2018. This compares to over 300,000 who took A levels, and we know that some students take a combination of both. Applied Generals and Tech Levels cover a wide range of subject areas, from applied science, business, and health and social care, to accountancy and horticulture.  They are an important route into higher education for many students, with around a fifth of 18 year old students applying to university holding at least one such qualification.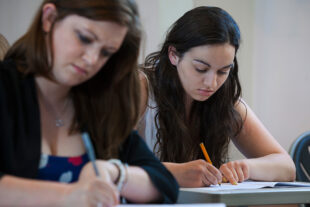 Few of these qualifications will have 'Applied General' or 'Tech Level' in their titles; they are more commonly known by the brand names (such as BTECs and Cambridge Technicals - the full lists are here). The terms relate to their categorisation in DfE 16-18 performance tables, which entitles qualifications which meet certain design rules to be included. One of these criteria is a requirement for at least 40% (Applied Generals) or 30% (Tech Levels) of the qualification to be external assessment. This doesn't necessarily mean exams – it can be practical work, or controlled assessment, provided it is marked by the awarding body. Another current requirement is the restriction that a student can only re-sit an externally-assessed unit twice.
When the majority of these new requirements were introduced for qualifications to be taught from 2016 (the resit requirement was introduced later), many awarding bodies revised their qualifications – though in many cases the old versions of the qualifications are also still available, and for the time being are still funded.
So what's the difference between the new and old qualifications? The most obvious change is the addition of external assessment in place of some of the teacher assessments. That means students taking new qualifications might be sitting units in June and awaiting results – for some units, as well as for the overall qualification – in August, while students taking the old qualifications will get their units marked by the teacher and they will claim their qualification when they have passed the required number of units.
It's important to bear in mind these differences when comparing results. While the overall pass rate is similar between the old and new versions, and broadly in line with A levels, the grade distribution varies.  Across the range of new qualifications, less than 5% of candidates completing the course achieved a top grade (Distinction* or equivalent), compared with around a third of the candidates achieving a top grade in the older versions. The picture is not uniform, however, and (as with A levels), the grade profile varies across subjects. It's not possible to make meaningful comparisons between the old and new qualifications because they are sometimes very different qualifications, with different assessment methodologies. It's also worth bearing in mind that it will usually be the school or college, rather than the individual student, who has made the decision about which version is taken.
Nevertheless, we recognise that it is confusing to have two versions of the qualifications running in parallel, so we support the DfE's proposal to remove funding for the older versions from 1st August 2020. Because there is a period of overlap between new and old versions, it is really important that students, employers and universities know which version of the qualification is which.
Our focus, though, is on fairness for students. Last summer we created a 'safety net' for students who just miss a pass on the external units. We have also conducted research on the way some of the external units functioned in these qualifications, and today we are publishing our second report on this work. We are also monitoring standards in the external units – to make sure they are maintained from one year to the next, and also that standards within a subject are aligned between awarding bodies, so that it is no easier to pass an external unit with one awarding body than another. We are exploring ways in which we can incorporate better statistical information into some of the awards, particularly where there are large numbers of students taking a subject.  And we are currently conducting research with schools and colleges on the factors they consider when choosing which qualifications to offer.
We are also looking to the longer term. Alongside our own work to strengthen these qualifications, we are contributing analysis to the DfE's ongoing consultation on post-16 qualifications at level 3 and below in England. We recognise and support the desire to simplify the system for young people such that routes into employment and further study are clear.
In the meantime, we will continue to work so that there is a level playing field for students taking these qualifications.  And for those taking Applied Generals and Tech Levels this summer, I wish you all the best.