In recent weeks we have begun to write to 348 schools to say that they have been selected to take part in next year's National Reference Test (NRT). In 2017 the Government introduced legislation which requires that the head teacher of a selected school ensures that pupils take the NRT.
The NRT has been introduced to provide additional evidence to support the setting of grade boundaries in 9 to 1 GCSEs in English language and maths. The NRT is a one-hour test, administered by NFER on behalf of Ofqual, which reflects the sorts of questions students can expect in exams for either GCSE English language and GCSE maths. It is taken by a representative sample of students who are taking their GCSEs in the same academic year. The 2019/20 test will take place in February and March 2020, and will be the 4th year it has been conducted.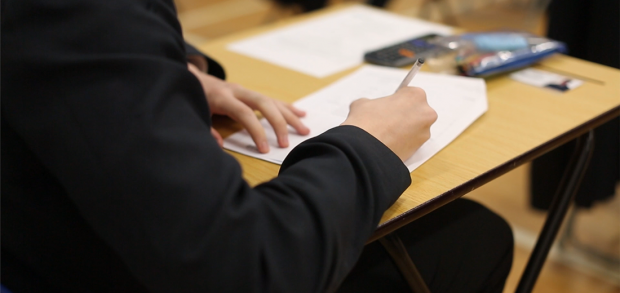 What can selected schools and colleges expect?
NFER organises and invigilates the test on behalf of schools, but relies on some help to prepare for the test from a nominated contact at each school. NFER suggests to heads that the nominated contact is the exams officer, who has the most specialist knowledge about how exams are run. NFER works closely with the contact to ensure a smooth process, including preparing for any access arrangements that might be required. On the day, the entire event takes about 90 minutes.
Last year, I went along to see how the test was carried out at a school, and I was impressed by how smoothly it went. It is always best, however, to ask those who are directly involved:
"There were very few questions that I can recall from students and no obvious impact. Some of them weren't keen as they didn't want to miss lessons in the run up to their main GCSEs, but we tried to schedule it so that they missed the least critical lessons and fit in with the current timetable – e.g. maths against a maths lesson/English against an English lesson. Or for 2018 during a "non-examination lesson" such as PSHCE or PE. We found the NFER people very accommodating. Certainly not a big issue and if chosen to do again it would be something I would be quite happy to do."
Exams officer at a school in the South East
"No issues at all. There are straight-forward instructions, I did a seating plan, I sent out a letter to parents in advance advising of reasons why it was happening along with the letter supplied by the NFER. Had good contact from the lead in advance. Two men came and they were very appreciative of what we did to arrange it. We put in one invigilator so there was a member of school staff with the students as well. It was no bother really. We got a thank you from the NFER lead afterwards and a cheque for the school."
Exams officer at a school in the East Midlands
 There have been a few concerns about the timing of the test being close to GCSE exams. This timing is deliberate, so as to be representative of what pupils have learnt in preparation for their GCSEs and therefore give us the most accurate data possible.
What will happen to the test results?
The NRT results are another form of evidence to help us to maintain standards in GCSEs over time and to recognise small but real changes in students' performance. Importantly, the test results for individual schools/colleges or pupils are not made public, only the aggregate national picture is published.
We have always said we would be cautious about making any adjustments to GCSE English and maths grade boundaries using this evidence for a number of reasons. Chiefly it is because this is a new test, GCSEs are high stakes and we want to be confident that the NRT results would be reflective of actual performance  at GCSE. We will publish the test results, and our decision about any adjustments on GCSE results day, Thursday 20 August 2020.