How much have GCSE maths results at school/college level varied this year?
What proportion of students got at least a grade 7 in the new GCSEs in biology and chemistry and physics?
What proportion of students in Warwickshire got an A or above in A level history?
If you're interested in questions like these, we'll be refreshing our interactive apps which will be available on results days – 16 August for A level, and 23 August for GCSE– and we have some new ones too. The apps won't show an individual school or college's results but if you're a teacher or headteacher, they will allow you to compare your own results with the national and regional picture.
Year-on-year variability at individual school or college level
Variation happens every year. It's normal. Individual schools and colleges will always see some variation in their results from one year to the next. These changes can be due to many factors – changes in the ability mix of the students, different teaching approaches, changes in teaching staff or teaching time, or changes to qualifications. And in small centres, the results of just a couple of students can make all the difference to the overall percentages receiving a particular grade year on year. For some years we've published reports on the pattern of variation in the large entry GCSE and A level subjects.
Last year, we launched an interactive app. Previously, the reports contained 15 to 20 static graphs but the GCSE and A level apps mean that it was possible to see hundreds of different permutations. You can choose your subject, then choose the grades you were interested in. You can select all students or just 16-year-olds (for GCSE), and you could choose between all schools/colleges and just those where the number of students is similar in both years.
What does this mean for schools and colleges? You can look at the variability in your school or college, in the context of similar schools and colleges, to get a sense of whether what you're seeing is unusual, or just normal variation.
Here's an example from the 2017 app showing the variability in GCSE English literature at grade 4 and above (click to enlarge):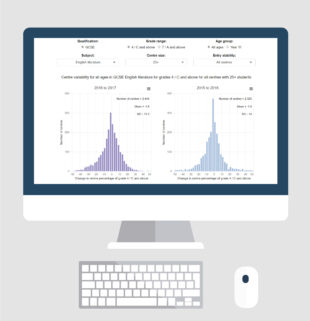 Distribution of GCSE grades in 9 to 1 subjects
If you want to see how your students' grades compare with those of students in the rest of the country, we have an app for that too. This was available last year, for the three 9 to 1 GCSEs awarded in 2017. This year, we've extended it to include all the new 9 to 1 GCSEs. This means you'll be able to look at any combination of one, two or three 9 to 1 GCSEs and see the grade profile for all schools and colleges in England, which allows you to put your own results in context.
For example, you'll be able to look at all students who achieved at least a grade 7 in biology, and at least a grade 7 in chemistry, and see what grades they achieved in physics. And many other combinations.
Here's an example from last year's app, showing English language at grade 4 and above, English literature at grade 4 and above, and all grades for maths (click to enlarge):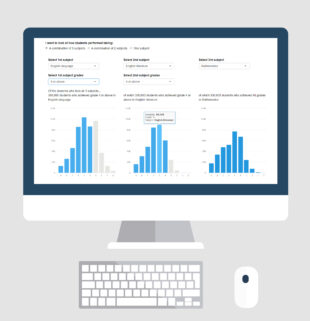 The map app
For many years, JCQ has published regional data on GCSEs and A levels. This year, our new app takes this data one step further, so you can choose a subject and grade and then select a county. We think this gives schools and colleges the opportunity to consider their own results in the context of results for all other local schools and colleges, and at subject level. So if you're teaching A level psychology in Cornwall, now you'll be able to see how your results look against results for all schools and colleges in Cornwall, as well as other counties. You'll also be able to see the 2017 results, so you'll be able to compare this year with last.
Here's an example using data from 2017 (click to enlarge):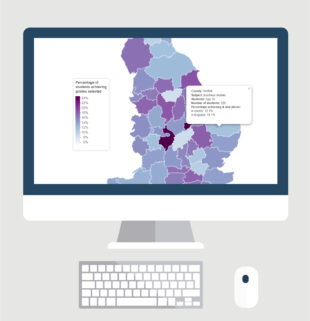 When will they all be available?
The 2017 apps are already available here.
Since last August they've had over 20,000 total page views from 70 different countries. And the feedback has been very positive.
You'll be able to access the new apps with 2018 data soon after the 9.30am embargo on the morning of results days. We'd love to hear how you get on with them.