https://ofqual.blog.gov.uk/jobs/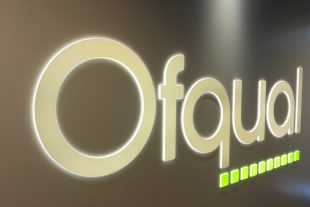 Find all current vacancies at Ofqual and how to apply. Follow @ofqual on Twitter for alerts of new vacancies.
Want to know more about working at Ofqual? Rebecca Hadley talks about the work we do and the opportunity for you to contribute.
Current vacancies
Regulation development and impact
Each year over 13 million regulated qualifications are awarded. For members of society they open doors to new opportunities. For employers, they help to inform recruitment and in developing their people. Ofqual is tasked by parliament to ensure that standards are maintained and the public can be confident in those qualifications. It's a big role and what we do impacts the lives of millions.
We're looking for a senior manager to join our Regulation Development & Impact team. The role will contribute to the management of our regulatory framework and measuring its impact on those we regulate. This role will suit someone with good attention to detail, who can get to grips with detailed and complex issues. The ideal person will need good writing skills and to be able to work with others to meet strict timelines.
Senior Manager Regulation Development and Impact
Grade 7, salary £44,000 to £56,000. Permanent, full-time position.
Job description • Application form • Job information pack
Applications close 8 May 2018 at 23:45
Legal
Ofqual's lawyers undertake a broad range of work including advising on the development of and implementation of regulatory policy including assisting with the statutory consultation process and the drafting of rules and guidance.
The Associate Director will provide high quality strategic legal advice in complex enforcement cases, including advising our enforcement committee. You will work collaboratively with colleagues from across Ofqual, often as part of a multi-disciplinary team, to identify solutions to complex regulatory problems and ensure efficient and effective delivery to secure our strategic objectives.
You will manage your own portfolio of complex cases, as well as overseeing the delivery of casework by internal and external lawyers. You will work closely with the Director of Enforcement to develop and deliver enforcement strategy and work collaboratively other associate directors in the legal team and the Director of Legal on larger legal projects, particularly those which require input from multiple legal specialisms.
Is this what you're looking for?  If so we would love to hear from you.
Associate Director, Legal Moderation and Enforcement
Grade 6, salary £63,000 to £70,000. Permanent, full-time position.
Job description • CV application • Job information pack
Applications close 8 May 2018 at 23:45
---
Our recruitment process is underpinned by the principle of appointment on the basis of fair and open competition and appointment on merit, as outlined in the Civil Service Commissioners' recruitment principles.
If you feel your application has not been treated in accordance with these principles and you wish to make a complaint, you should first contact Ofqual by email: recruitment@ofqual.gov.uk. If you are not satisfied with the response you receive, you can contact the Civil Service Commission, which regulates all Civil Service recruitment.