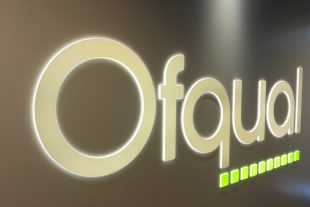 Find all current vacancies at Ofqual and how to apply.
Want to know more about working at Ofqual? Rebecca Hadley talks about the work we do and the opportunity for you to contribute.
---
Current vacancies
Support Officer Business and Projects
Details
Salary range of £22,000 to £25,500, grade EO
Full time, permanent position
Based in Coventry
Closing date for completed applications is 5pm on 27 July 2016
Ofqual is an equal opportunities employer and welcomes applications from all parts of the community.
How to apply
About Us
Ofqual regulates qualifications, exams and assessments in England. We're here to secure the standards of qualifications, to promote confidence in them and to ensure that the system works well – that standards are maintained. We've a big job to do in a complex and changing sector. It's a challenging and exciting time.
A small organisation with a big impact 
Ofqual is a small organisation with a big impact. The qualifications we regulate impact the lives of every child and millions of adults looking to improve their prospects of employment. We are independent, expert and committed to playing our part in a successful education and training system in England. 
About the role
Reporting to our Manager for Business and Research Projects,  you'll be responsible for supporting a programme of complex and influential research projects in the field of assessment and qualifications. This will support our work to secure qualification standards and develop a robust evidence base to support regulation. You'll also support our Executive Director for Strategy, Risk and Research by helping organise her schedule and work.
About you
You'll have experience of working in a business support environment, organising meetings of internal and external stakeholders, have excellent communication skills and some experience of assisting with budget management. You'll be given the opportunity to assist with research projects, using your skills to collate and analyse information and also use your basic project management skills to contribute to the work of the wider team.
If this sounds like you, we are keen to get your application.
What we offer
Salary range of £22,000 to £25,500
All positions are full time, 36 hours per week and benefits include a government pension scheme, 30 days holiday plus bank holidays, development opportunities, employee well-being programmes and other benefits.
What next? 
It's exciting times for us at Ofqual. On our website you can read our Corporate Plan, which gives a sense of the priorities for the organisation in the years ahead. That work is challenging and demands expertise, insight and dedication. Our team is made up of leading experts in their field working to address these challenges. If you would like to be part of that team, and part of our future, apply now. We look forward to hearing from you. 
We are not seeking applications from candidates that have applied for this role in the last 6 months and were not appointable.
To apply for this post please complete the online application linked above. If you have any issues please email recruitment@ofqual.gov.uk
If you decide to apply we will confirm receipt of your application.
Do you have the right to work in the UK?
The law is continually under review by the Home Office and UK Border Agency so please check you meet the requirements before you apply.
Civil Service nationality rules
Civil Service nationality rules determine who Ofqual can open posts to.
You are eligible to apply if you are a:
UK national
Commonwealth citizen,
national of the European Economic Area (EEA)
Swiss or Turkish national (subject to certain restrictions).
Certain family members of EEA, Swiss and Turkish nationals who are not themselves EEA, Swiss or Turkish nationals, are also eligible.
If you would like any more information please contact us.