https://ofqual.blog.gov.uk/jobs/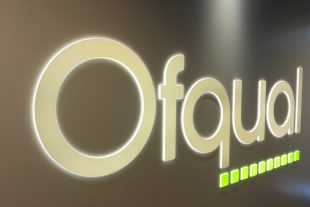 Find all current vacancies at Ofqual and how to apply. Follow @ofqual on Twitter for alerts of new vacancies.
Want to know more about working at Ofqual? Rebecca Hadley talks about the work we do and the opportunity for you to contribute.
Current vacancies
Senior Lawyer
Ofqual's lawyers undertake a broad range of work including advising on the development of and implementation of regulatory policy including assisting with the statutory consultation process and the drafting of rules and guidance.
You will provide high quality, targeted and accessible legal advice across a range of practice areas and will work as a valued business partner with colleagues across Ofqual in order to secure and deliver effective solutions to legal issues.
You will generally lead and manage your own portfolio of matters but you will also work collegiately with other Senior Lawyers, the Associate Directors of Legal or the Director of Legal on larger projects, particularly those which require input from multiple legal specialisms.
Is this what you're looking for?  If so we would love to hear from you.
Roles
Senior Lawyer
Grade 7, salary £44,000 to £56,000. Permanent role.
Job Description • Recruitment pack • Application form
Applications close 21 February 2018 at 23:45
---
PA to Chief Regulator
An exciting opportunity has arisen to work in a high-profile, fast-paced role at the heart of Ofqual, the exams regulator. The PA to the Chief Regulator is a vital role providing full executive support to ensure the smooth running of the Executive office.
Responsibilities will include supporting the Chief Regulator and the Chair in all aspects of their work and management of their offices, including managing the respective diaries and ensuring that they are well briefed and prepared ahead of meetings. The role will also involve dealing with correspondence, managing meetings, making travel arrangements, and attending internal and external meetings and events as required.
The successful candidate will be flexible, have strong communication skills and an excellent standard of written English, have excellent administrative and IT skills, as well as being pro-active and able to prioritise their own workload with minimal supervision, and keeping one step ahead. The ability to act with discretion and handle confidential information sensitively is essential.
Knowledge of the work of Ofqual and the education landscape would be an advantage but not essential
Role
PA to Chief Regulator and Chair
Grade EO, salary £22,000 to £25,000. 2 year, fixed-term contract initially.
Job description • Application form
Applications close 19 February 2018 at 23:45
---