https://ofqual.blog.gov.uk/jobs/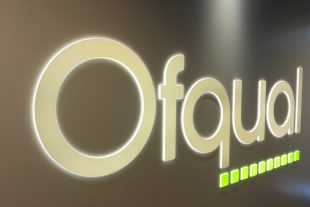 Find all current vacancies at Ofqual and how to apply.
Want to know more about working at Ofqual? Rebecca Hadley talks about the work we do and the opportunity for you to contribute.
Current vacancies
---
Senior managers
Details
Salary range of £44,000 to £56,000, grade 7
Full time, permanent or 12 months maternity cover
Based in Coventry
Closing date for completed applications is noon on 3 February 2017
Ofqual is an equal opportunities employer and welcomes applications from all parts of the community.
How to apply
Expenses incurred by candidates during the recruitment process will not be reimbursed.
About Us
Ofqual regulates qualifications, examinations and assessments in England. We are here to secure the standards of qualifications, to promote confidence in them and to ensure that the system works well – that standards are delivered.
We have a big job to do in a dynamic and changing sector. It's a challenging yet exciting time. We are looking to grow our organisational capability to meet our strategic objectives and we have a range of exciting opportunities based at our Coventry office.
We a have two vacancies in our general qualifications directorate looking at qualifications (mainly GCSE, AS and A levels) and working closely with the organisations we regulate and the Department for Education in a range of roles. These include being responsible for the standards of qualifications, developing policy and regulations, applying project and programme management, and producing external communications.
About you
We are looking for a people to fill full time and maternity leave posts within the organisation and drive forward our work.
You will be looked to for your advice in applying technical understanding of assessment practice, regulatory requirements and development of regulatory tools, understanding of the market and ability to understand the organisations we regulate. You'll need to be good with analysing information including numerical data, able to produce clear and concise written materials and able to present information and chair meetings in a range of contexts in an appropriate manner. You will be comfortable working alone and as part of a team.
Experience of education, assessment and regulation are beneficial but not essential. Curiosity, an ability to see the bigger picture, and to analyse the detail are critical.
It's exciting times for us at Ofqual. On our website you can read our corporate plan, which gives a sense of the priorities for the organisation in the years ahead. That work is challenging and demands expertise, insight and dedication. If you would like to be part of that team, and part of our future, apply now. We look forward to hearing from you.
Please ensure your application lets us know if you are applying for the permanent, maternity cover or both. Your application should cover how you meet the essential criteria of the person specification, this shown on the job description.
We are not seeking applications from candidates that have applied for this role in the last 6 months and were not appointable.
What we offer
Salary range of £44,000 to £56,000
All positions are full time, 36 hours per week and benefits include a government pension scheme, 30 days holiday plus bank holidays, development opportunities, employee well-being programmes and other benefits.
What next?
To apply for this post please complete the online application linked above. If you have any issues please email recruitment@ofqual.gov.uk
If you decide to apply we will confirm receipt of your application.
Do you have the right to work in the UK?
The law is continually under review by the Home Office and UK Border Agency so please check you meet the requirements before you apply.
Civil Service nationality rules
Civil Service nationality rules determine who Ofqual can open posts to.
You are eligible to apply if you are a:
UK national
Commonwealth citizen,
national of the European Economic Area (EEA)
Swiss or Turkish national (subject to certain restrictions).
Certain family members of EEA, Swiss and Turkish nationals who are not themselves EEA, Swiss or Turkish nationals, are also eligible.
If you would like any more information please contact us.
---