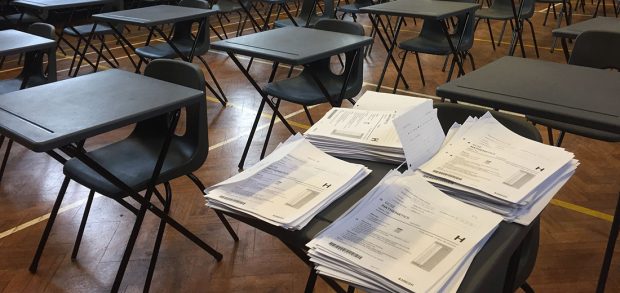 The recent reforms to general qualifications were the biggest in a generation. We have been asking teachers for their experiences of teaching them, and, to date, we have spoken directly to more than 500 of them. In all of our discussions we have been delighted by the engagement, professionalism and insight they have brought. They have relayed many positive stories and others that have provided food for thought. While we can't list them all, we've summarised the main themes in this blog.
Many GCSE teachers have welcomed the increase in the demand of the content. For example, one chemistry teacher told us: "It is no longer possible to swallow a revision guide and regurgitate".
Many teachers also believe that, as a result, the new GCSEs better prepare their students for A levels.
Generally, teachers have found the exam papers used so far to be fair. Their students received the grades they expected.
In particular, modern foreign languages teachers told us that GCSE and A level question papers assessing writing were fair. They also felt that the speaking assessments were better than those of the legacy qualifications, although there were some logistical challenges in delivering these.
GCSE and A level science teachers have welcomed the way practical science skills are now assessed. They told us it has freed up their teaching, allowing them to embed practical skills throughout the two-year course and has empowered students. We have, today, published the latest in a sequence of research reports on this topic at A level.
We have also heard things that we have either acted on ourselves already or have fed back to exam boards for action. For example:
Many teachers have questioned the volume of course content, although some have told us that they expect this will become more manageable in time as they become more familiar with the new requirements. We have fed this back to the Department for Education.
MFL teachers have talked about the level of demand of listening and reading assessments. This is something we have been looking into and we intend to report on later this year.
Some teachers have told us that while they welcomed the assessment of mathematical skills in other A level subjects, such as business or psychology, and the assessment of learning from practical skills in sciences, they were less sure about the relevance of questions in some exams. In response, we have worked with the exam boards to agree principles on what makes good questions of these types, which we have published today.
Understandably, GCSE computer science teachers were disappointed that we had removed non-exam assessment from the overall grade in 2018. That said, most understood our rationale and many agreed with our decision, and we have also heard of students who are enjoying their courses without the pressure of non-exam assessment.
We have heard from teachers who felt that the number of exams in the summer period worried some students. We have sought to help by distributing a range of preparatory resources, including guides and checklists.
Quite reasonably, teachers need time to adjust to teaching new qualifications and to become familiar with new content and styles of assessments. We will continue to ask teachers for their views, including on the new qualifications that will be examined for the first time this summer. If you are teaching one of those qualifications, please look out for invitations to join one of our workshops in the autumn.
By Janet Holloway, Associate Director, Standards for Design, Development and Evaluation of General Qualifications
If you would like to talk to Ofqual about any of the issues raised in this blog, please contact us at public.enquiries@ofqual.gov.uk.